Aviation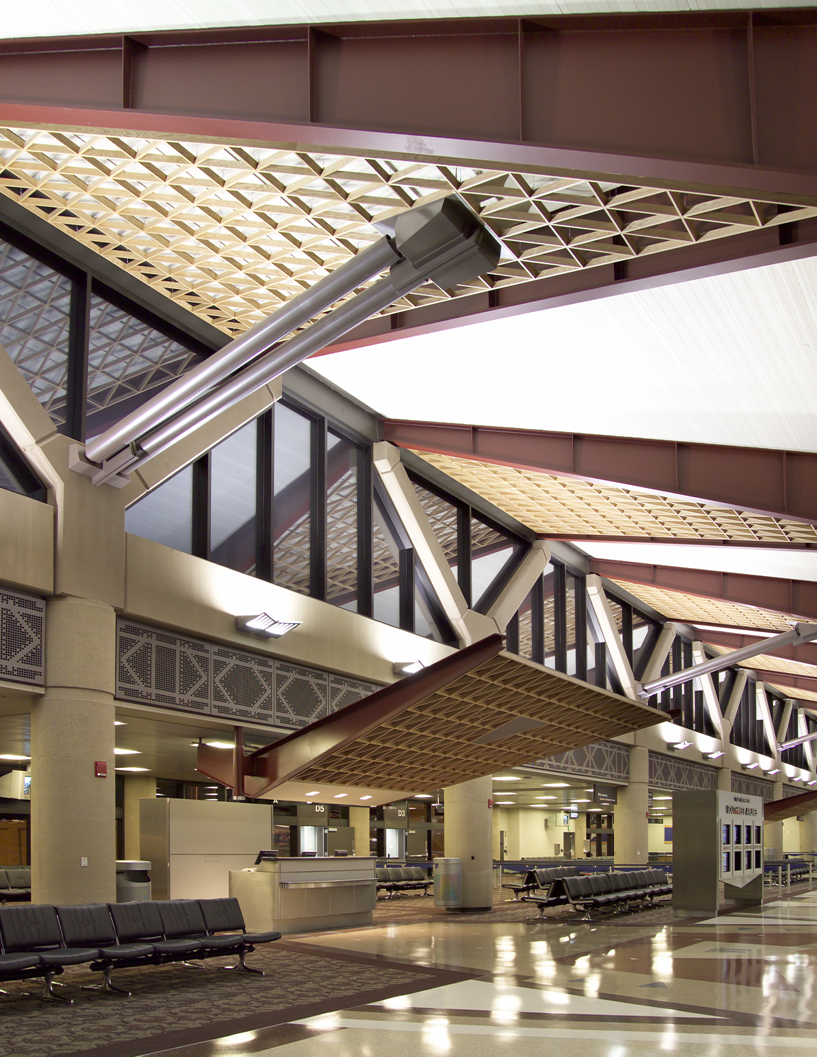 Phoenix Sky Harbor International Airport Concourse S2, Phoenix, Arizona
This project included an 118,000-sf multi-level airport concourse that included a 24 feet deep basement with storage mezzanine, apron level, passenger level and mechanical penthouse. The concourse superstructure was constructed of cast in place concrete columns on spread footings, 2-way flat plate reinforced concrete slabs with shear stud rails at the columns, long span ASHTO girders spanning over the roadway, long span tapered steel girders at the roof and various pre-cast concrete elements. In addition to the concourse a 44,000-sf passenger bridge was designed between the new and existing concourse. Large diameter pedestal concrete columns on concrete drilled piers support the passenger bridge. Specific areas of the overall project are designed for blast protection.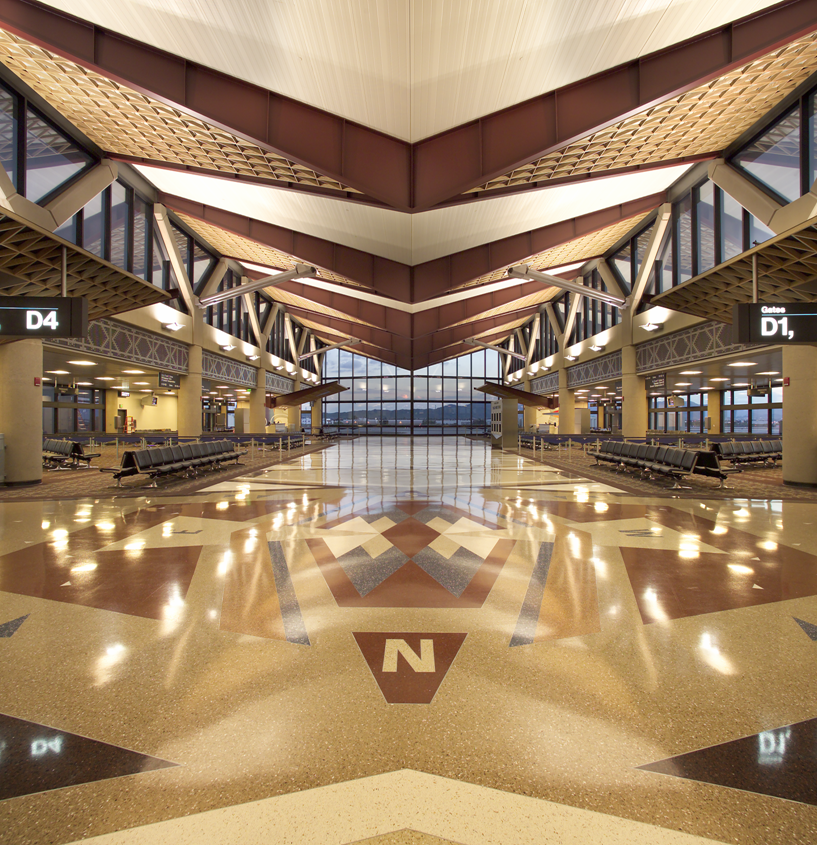 Phoenix Sky Harbor International Airport Terminal 2 – Phase I Explosive Detection System (EDS) Deployment Program, Phoenix, Arizona
The project included the design of a 35,000-sf high bay one-story steel building to accommodate the detection machines and the associated baggage conveyor systems. Metal siding on light-gage steel studs were utilized for the exterior cladding system. The building lateral system utilized steel braced bays at the exterior wall for resisting wind and seismic forces. A concrete drilled pier foundation system was utilized for the support of the gravity column loads.
Southwest Airlines Concourse C Apron Level Tennant Improvement, Phoenix Sky Harbor International Airport, Phoenix, Arizona
Engineer in support of Architect for the remodel of Southwest Airlines behind the scences employee area at concourse C apron level. Engineering involved a new raised platform in control room, restroom lavatory supports, and the hanging of flat screen video moniter for floor above.
Security Checkpoint A Expansion, Phoenix Sky Harbor International Airport, Phoenix, Arizona
Project Manager for one story freestanding complex addition. Foundation comprised of micro-piles and concrete pile caps. Micro-piles extend 30 feet into cobles. Large 4-foot diameter 40 feet high concrete columns, designed for blast, support the steel floor system. Steel floor system made up of large built up steel beams with multiple cantilevers.
EDS Building S2 Concourse, Phoenix Sky Harbor International Airport, Phoenix, Arizona
Project Manager and Engineer for 35,000-sf concrete underground structure and steel roof canopy structure. Structure utilizes thick 2-way steel reinforced concrete flat plate supporting baggage cart carousels at apron level.
FA-18 Flight Simulator Building, Oceana Naval Air Station, Virginia Beach, Virginia
Two-story, 76,000-sf structure composed of composite floors supported on steel framing.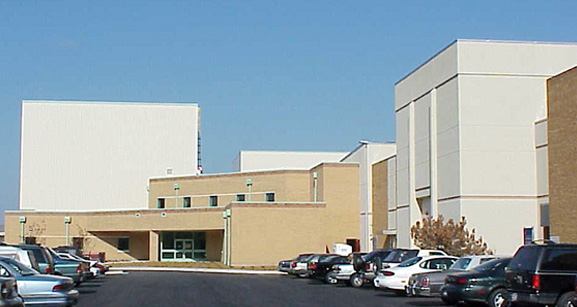 Squadron Operations Building, Seymour Johnson Air Force Base, North Carolina
Single-story, environmentally friendly, green design, building using hard metric products; recycled structural materials utilized.
C-130 Squadron Operations and Aircraft Maintenance Building, Pope Air Force Base, North Carolina
Two additions comprising 2,269 square meters; masonry exterior bearing walls, interior light gage steel bearing walls. Trusses were light gage steel "C" section.
Phoenix Sky Harbor International Airport T3 Office Annex Structural Review, Phoenix, Arizona
Reviewed construction documents for conformance to building code for two-story pre-engineered building. Consulted for Airport when it was discovered that fabrication took place in Mexico. Consulted regarding code requirements of special structural inspection requirements with respect to fabricators.
Phoenix Sky Harbor International Airport T2 Roof Canopy Supporting Mechanical Equipment, Phoenix, Arizona
Performed structural engineering to ensure proposed mechanical equipment may be safely supported by existing canopy.
Structural Services in Support of Mechanical Engineer for AHU Modifications, Terminal 3 Phoenix Sky Harbor Airport, Phoenix, Arizona
Structural analysis and design for structure resisting wind pressure from large HVAC fan walls.
American West Expansion in N4 Concourse, Phoenix Sky Harbor Airport - Renovation of existing floors to incorporate an additional escalator and new jet way pier over the existing basement at the apron level. Provided an engineered carbon fiber wrap design that reinforced the existing concrete floor slabs that initially were not able to support the heavy new escalator loads. Carbon fiber wrap was also utilized to provide increased strength for the basement ceiling/apron concourse slab. Both of these approaches saved time and money over conventional construction methods. Provided continuous special inspections during the installation.
Rental Car Center Concessions Retail Unit, Phoenix, Arizona
Structural engineering design for an indoor concessions stand. Structure was constructed of cold-formed steel load bearing stud walls with joists spanning over for the ceiling.