Education
Arcadia Neighborhood Learning Center Scottsdale, Arizona
Structural Engineer for 64,500-sf of kindergarten through eighth grade school facilities. Facilities consist of four separate buildings connected by adjoining green space, walkways, and shade elements. Three of the buildings are one-story and the largest building is two-story. Each facility is constructed of load bearing clay masonry exterior walls. Horizontal systems are constructed of composite steel beam floors and steel bar joist roofs. Facilities utilize large areas of exposed concrete floors with various finishes. A post-tensioned concrete exterior basketball court, a small amphitheater, courtyard elements, and unique play areas compliment the site. The two-story building is designed to accommodate solar panels.
Mesa Community College Science and Technology Building Mesa, Arizona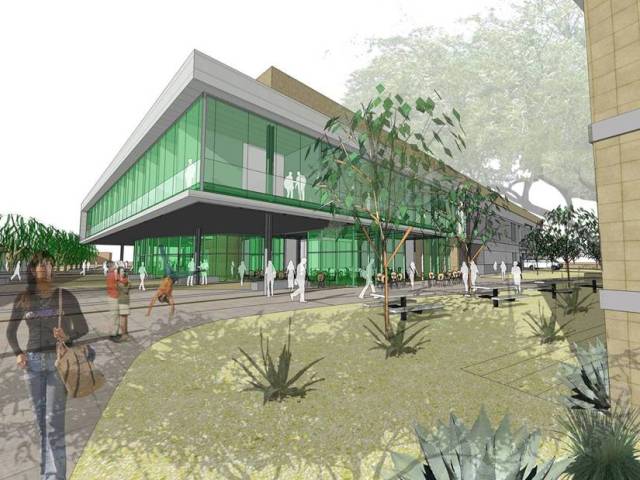 Two-story structure constructed of exterior CMU load-bearing walls which support a steel composite floor and steel beam roof. Lateral is taken by the CMU shear walls. Unique to this structure is the photovoltaic panels on the roof, the planetarium and the LEED rating. Project delivery method was CM at Risk.
Tempe Preparatory Academy, Tempe, Arizona
4,500-sf one-story addition comprised of cmu exterior walls and a wood truss roof. Included special structural inspections.
UNLV, Tennant Improvement Building B UNLV Bio-Medical Research Building Las Vegas, Nevada
Classroom build-out of lower level within existing building. Structural efforts involved engineering and justification of new openings in existing concrete shear walls.
Desert View Elementary School Geothermal Retrofit, Phoenix, Arizona
Structural engineer in support of HVAC modifications for the installation of geothermal system in existing structure.
Estrella Mountain Community College, Science Laboratories Remodel – Montezuma Hall Avondale, Arizona
Project manager responsible for structural engineering design services for the remodel of approximately 20,100-sf of space. The remodel includes the conversion of 10 general-purpose classrooms into new science laboratories and laboratory prep areas in addition to updating and modifying existing science laboratory areas.